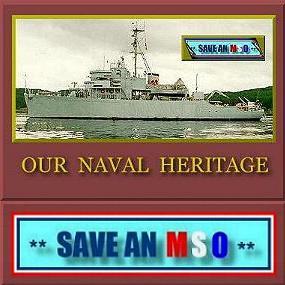 all information
As a result of the Korean war experience the United States undertook the construction of a new series of minesweepers on a large scale. During the decade of the 1950s sixty-five new minesweepers were built. These new minesweepers were designated Minesweeper, Ocean (non-magnetic (MSO). They consisted of three classes of ships: Agile/Aggressive, Hull numbers 421 to 507; Acme, hull numbers 508 to 518; and Ability, hull numbers 519 to 522. In contrast to the steel-hulled minesweepers of World War II, designated (AM) later (MSF) and still later (MSO(O), these new minesweepers were smaller and built primarily of wood , with bronze and stainless (non-magnetic) steel fittings to minimize their magnetic signature. All of the 1950 era MSOs had UQS-1 mine-locating sonar, later updated with SQQ-14 sonar. MSOs were capable of sweeping for moored and bottom contact, magnetic and acoustic mines.
Shipyard and builders
Peterson Shipyard Peterson Builders Inc., Sturgeon Bay, Wisconsin, USA
The 1950's
In the 1950's, PBI contracted with the US Navy to build MSB's,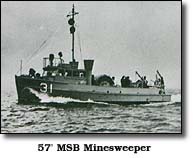 the first of what would become a long line of minesweepers built in Sturgeon Bay, Wisconsin. It was with the construction of these primarily wooden minesweepers that PBI got its first experience with aluminum construction. Many present day welding techniques were developed building aluminum fabrications for wooden ships. Working with Kaiser, Alcoa and Reynolds aluminum companies and major welding equipment firms of the time, PBI played an important role in the refinement of aluminum welding technology.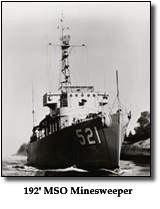 With the advent of the Korean War, the need arose for mine warfare craft - ships that were well suited to PBI's wood hull construction experience. During the 50's, PBI built many such craft for the US and foreign navies, including nine ocean going minesweepers (MSO's) ranging from 165' to 192' and five 57' MSB's. PBI also built a number of smaller craft including work boats, rescue craft and crew boats of both wood and steel construction.

Navy Minesweepers Ships History